About Us

Discover the fountain of youth at Skin Deep. A center for the improvement and correction of your face and skin. The science of skin rejuvenation begins with skin maintenance and prevention. These are the two key elements to achieving beautiful skin now and forever. The Skin Deep Enhancement Center uses therapeutic skin technologies to help keep you looking your youngest. Nature's harsh elements such as sun and wind can have damaging effects on the appearance of your face and skin. Erase and prevent nature's negative effects with the most advanced skin care treatments available. Stop by and give yourself a drink at The Beauti Bar. www.beautibar.com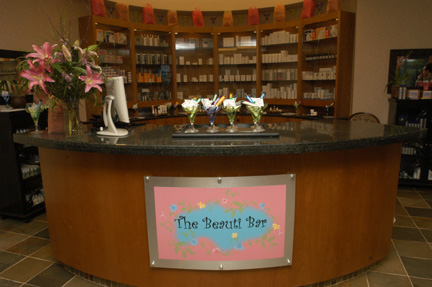 Micro-dermabrasion, also know as the Power Peel can help to improve age spots, acne scars, fine wrinkles and stretch marks. Power Peel treatments give remarkable improvements in skin texture, regardless of skin color. Power Peels are a safe, non-surgical comprehensive approach to skin care.
Another non-surgical skin therapy we offer is laser hair removal. The latest permanent hair removal laser on the market is the LightSheer laser system. This is permanent hair removal for both men and women. This laser offers unsurpassed results and can be used on the widest range of skin types.
Other therapeutic skin treatments such as Glycolic facials are used to help lift the dead skin layers away and uncover your more beautiful skin underneath. The Glyderm at Home maintenance program uses Glycolic acid for glowing radiant skin everyday. Our anti-aging system called Kinerase has the ability to help reverse the photoaging process. Kinerase creams and lotions are a proven treatment used in the fight against aging. Ask a skin care specialist about the Glyderm at Home maintenance program and the Kinerase anti-aging systems.
The Skin Deep Enhancement Center is a center for the improvement and correction of your face and skin. The center is located at 6635 Daly Rd., West Bloomfield, MI 48322.
For a complimentary consultation, call (248) 539-FACE.